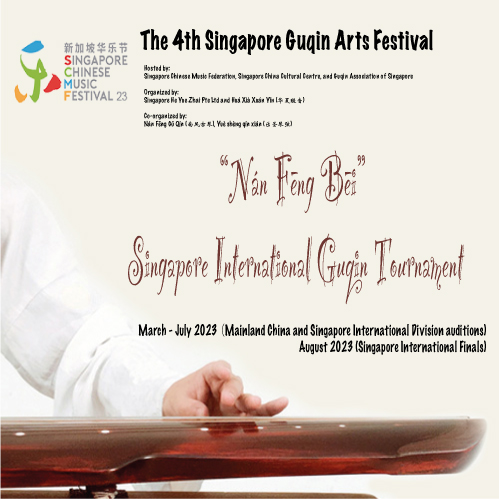 The 4th Singapore Guqin Arts Festival
21 March 2023
Since 2017, the Singapore Guqin Arts Festival, co-organised by the Singapore Chinese Music Federation, the Singapore China Cultural Centre and the Guqin Association of Singapore, has been successfully held for three times. It has successively cooperated with the China Nationalities Orchestra Society and the Shanghai Musician Association, International Chinese Musicians Coalition, etc., and invited many contemporary Guqin maestro, scholars, academic and researchers such as Zhao Jiazhen, Dai Xiaolian, Zeng Chengwei, Qiao Shan, Yang Qing, Li Fengyun, Wang Jianxin, Zhu Xi, Zhang Huaying, Huang Mei, Wang Peng, Ni Shiyun, etc., together with Zhang Jun, the "Prince of Kunqu Opera", and Gao Bowen, the President of Shangihai Pingtan Troupe, to jointly hold the Guqin music concerts, seminars and talks.
The festival was remarkably successful and has received enormous social attention. The "1st Singapore International Guqin Tournament", launched by the 2021 Singapore Chinese Music Festival, has played a very good role and extraordinary significance in promoting the cultivation and discovery of local guqin talents, and even promoted the development of local Guqin and the interaction of Guqin around the world.
This year, 2023, is symbolic as it coincides with the 20th anniversary of the inscription of Guqin Arts on the UNESCO's list of the "Oral and Intangible Heritage of Humanity". The 4th Singapore Guqin Arts Festival will be held as per schedule. In addition to continuing to be part of the 2023 Singapore Chinese Music Festival, the Singapore Guqin Arts Festival will once again hold a series of events such as Guqin Art exhibitions and concerts by famous artists, and will once again hold the world-class International Guqin Championship, winning prizes sponsored by Nán Fēng Gǔ Qín and Yuè shèng qín xián with total prize value of nearly S$300,000. Taking Singapore as the stage, Guqin masters from all over the world are invited to show the world the new look of this ancient art with a history of more than 3,000 years in today's era.
Join our mailing list to get updated with our latest News & Events!