Tea Appreciation
Traditionally, tea is often associated with art, philosophy and literature. More importantly, learning about the art of tea has often been touted as an essential part of self-cultivation. If you have always been wanted to experience the proper and traditional way to "drink tea", our tea appreciation course has been specially crafted to help you dive deeply into the spirit and soul of the Chinese tea culture.
The beauty of tea is meant to be learnt and appreciated by everyone. We hope that by sharing our immense love for tea, you will encounter a newfound appreciation and make tea drinking a part of your everyday life.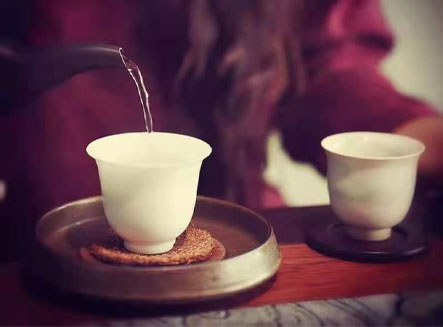 Tea Appreciation Class
Our Tea Appreciation Class and curriculum is designed to be educational, engaging and experiential. Offered in a series of 4 classes, each class session lasted for 90 minutes. Students will gain an insight into the following.
– The origins and history of Chinese tea
– Proper tea etiquette in a traditional Chinese tea ceremony
– Various tea brewing techniques as well as an introduction to Chinese teaware
– Modern methods of tea processing and the six different types of tea categories
– The correct way to savour and taste distinctive characteristics of different teas
We offer both individual and group classes. Private classes cost SGD$500 per pax, while group classes cost SGD$430 per pax (capped at a maximum of 8 pax).
Complimentary Chinese teaware set will be gifted to every student during first lesson.
Tea Appreciation Classes will be conducted in Mandarin. For further enquires, please contact us at info.heyuezhai@gmail.com
or call our hotline at 65289137 during our office hours for more details.
Team He Yue Zhai
Meet our experienced teachers who are always ready to share their knowledge.
Team He Yue Zhai
Join our mailing list to get updated with our latest News & Events!